Archive for category Global
Posted by Jonathan Cloud in Carbon Pollution, Climate Change, Economy, Editorial, Energy & Environment, Finances, Global, National, Policy, Politics, Sea Level Rise on Sunday, January 6, 2019
New observations show that climate change is already harming us in a wide variety of ways. Possible Planet is looking at what we can do about it, from rewarding carbon capture on a global scale to refreezing the Arctic.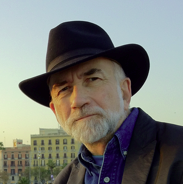 Mounting Evidence of Harm to Humanity and the Biosphere
Climate change—or, as Dr. Janice Kirsh prefers to call it, climate disruption1—is already upon us. The effects are real, costly, and increasingly measurable. Amongst several other dire warnings issued near the end of 2018, the latest report of the Lancet Countdown notes that "Vulnerability to extremes of heat has steadily risen since 1990 in every region, with 157 million more people exposed to heatwave events in 2017, compared with 2000," and "153 billion hours of labour were lost in 2017 because of heat, an increase of more than 62 billion hours since 2000." Moreover,
The direct effects of climate change extend beyond heat to include extremes of weather. In 2017, a total of 712 extreme weather events resulted in US$326 billion in economic losses, almost triple the total losses of 2016.2
Add to this the "excess costs" of rising sea levels, and rising levels of ocean acidity; the agricultural impacts and the spread of vector-borne and water-borne diseases; and the broad range of public health impacts—and it's clear that today's costs and consequences alone are reason enough to sound the alarm.
But the planet also faces other imminent disasters:
the loss of natural habitat and biodiversity, precipitating what is widely considered "the sixth mass extinction event"
the widespread loss of soil fertility threatening agricultural production
and wars, conflicts, and mass migrations that are already being precipitated by environmental changes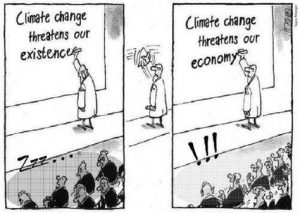 Though some people are still apparently unwilling to believe that climate change is real, or that humans are the major cause of it, these very real economic and biophysical costs are of increasing concern to global policymakers, public health professionals, the insurance industry, and even the military. And ironically it's perhaps the risk to the economy, even more than to the biosphere, that will drive a meaningful response.