Archive for category Sustainable Business
Posted by Jonathan Cloud in Economy, Editorial, Energy & Environment, Local, News, NJ Shore, Policy, State, Sustainability, Sustainable Business on Thursday, August 7, 2014
The challenges we face in New Jersey as a result of climate change are significant, and so therefore are the opportunities. The experience of Superstorm Sandy showed us just how ill-prepared we are for the more frequent recurrence of extreme weather; and how important it is that we set an example for taking action to mitigate our own greenhouse gas emissions, as other states are doing around us. And there's also no doubt about the urgency of it — as you can see from this remarkable video:
Read the rest of this entry »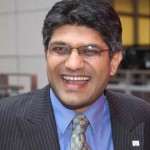 Jigar Shah has a disarmingly powerful message for today's young capitalists: fixing the climate crisis is the biggest financial opportunity of our lifetimes. Indeed, Shah is on track to become a role model for a new generation of entrepreneurs who are committed to leveraging mainstream investment for social transformation.
In Creating Climate Wealth, Shah makes the case that clean energy represents a ten trillion dollar investment opportunity—if we are just willing to look at what already makes economic sense in addressing the impacts of climate change. The premise of his book, as he states it in a recent video interview, is that 50% of the climate challenge can be tackled profitably with existing technologies, if we have the right business models.
By Matt Polsky and Pooja Aravkar
None of the world's leading companies pursuing sustainability are U.S.-based, reports Oekom Research, a German company in its annual Corporate Responsibility Review. What could we do about this in New Jersey? Researchers from the Fairleigh Dickinson University (FDU) Institute for Sustainable Enterprise(ISE) can offer some ideas. The mission of ISE is to "bring people together to learn how to live and manage sustainably by solving problems and capitalizing on opportunities in ways that simultaneously enhance economic, social, and environmental vitality." It is the intellectual hub of sustainable business thinking in New Jersey.
ISE's 2010 report Developing and Implementing a Sustainable Growth Strategy for New Jersey provided several guidelines for developing a "Green Economy" – an economy that includes and extends beyond clean energy, potentially penetrating all business sectors to protect and restore the environment while creating economic growth. The report, which urges all sectors to practice corporate social responsibility and aim towards greater levels of sustainability, concludes that "New Jersey has a unique opportunity to play a leadership role."